Spooky Magic Store: 
Side Show Treasures - Freaks DVD

Spooky Magic received a small number of the most recent release of this Tod Browning (Universal's [1931] DRACULA) classic. Banned in theatres all over the world for years, this circus drama uses real carnival and sideshow performers to tell the horrific tale of lies and deception performed by members of a French traveling circus. Oft-quoted but seldom seen, this is a must-own DVD. Extras include a documentary featuring sideshow legends/historians Todd Robbins and Johnny Meah, and David Skal (author of DARK CARNIVAL: THE SECRET WORLD OF TOD BROWNING, HOLLYWOOD'S MASTER OF THE MACABRE).
Freaks DVD*
$20.00 plus shipping

* Check for Availability, Email me at HERE
SCRYE'S CASTLE BLOOD MAGIC SAMPLER/PRESENTATION COMPANION

The contents of this 40+ page book are from Chris' 8+ years as magical entertainer and consultant for the award-winning Castle Blood haunted attraction. It is called a "sampler" because Chris is producing a larger book on the history and use of magic in Castle Blood to be published in the next year. It is also the "handbook" (a.k.a. lecture notes or "presentation companion" to others) for Chris' presentations and workshops. Within the pages, Chris presents scripting and methods for 8 magic effects designed and used by Chris (and other cast members) at Castle Blood. Six effects (contained in five fully-scripted routines) are from Chris' repertoire as a line entertainer for haunted events. Two effects are designed for family shows or haunted events specifically for younger children.
In addition, Chris also discusses and recommends commercially-available effects, provides hints and tips (many from painful experience!), and photos and stories from Castle Blood.
IF YOU LIKE THE COMPANION, YOU'LL LIKE THESE PRODUCTS:
THE HAUNTED KEY
AS FEATURED IN CHRIS' PRESENTATION COMPANION:
A skeleton key mysteriously and slowly turns in the hand of those who are "in touch" with the spirits.
The effect looks eerie, and is good "pocket magic" for any haunt performer.
Haunted Key
$7.50 plus shipping
THE WEB

AS HIGHLY RECOMMENDED IN CHRIS' PRESENTATION COMPANION: Honestly, one of the best (and scariest!) close up magic tricks ever invented! Performer and/or audience helper make cobwebs appear and disappear off of printed cards. However, there is only one way to make cobwebs: with a spider, which appears on the back of the helper's hand!
The Web
$10.00 plus shipping
GLORPY

This fun item is called by many other names, but the effect is the same: make a ghost appear under the handkerchief without the use of wires or other hookups. Glorpy can be combined with other effects, or used on its own to create a fun, spooky effect. Best of all, it folds up and goes into the pocket without any "reset" or fuss.
Glorpy (** special offer **)
$5.00 plus shipping (with the purchase of any other item on the website)
James Taylor's
SHOCKED AND AMAZED: ON AND OFF THE MIDWAY

Each book-length volume is full of historical pictures, narratives, secrets, carny lingo, and other gems from the rapidly-disappearing world of carnivals and midways. M.D.I.M. Productions will carry back issues at the current retail magazine price as long as they are available. These issues are highly collectable and out-of-print issues sell for 2 or three times more than cover price on the secondary market. A brief description of each issue follows the volume number.
$20 each + shipping)
VOLUME 3: Melvin Burkhart (cover story), the Hilton Sisters, Gorilla Shows, Torture Chambers/Shows, cover art by Mark Frierson, and more!
** Currently OUT OF STOCK
VOLUME 5: Jim Rose Circus (cover story), Barnum's American Museum, Sylvia Cassidy (kootch shows), Otis "The Frog Boy" Jordan, Mummies (real and otherwise), Fakir/working act stunt methods, cover art by Mark Frierson, and more! (This issue is autographed by author/editor James Taylor himself!)
VOLUME 6: Percilla "The Monkey Girl" Bejano (cover story), Harley Newman, Sideshow Doctors, The Thing, Baby Shows, Half-and-Half Acts, cover art by Bob Kathman, and more!
VOLUME 7: CONEY ISLAND ISSUE! Too much to list! If they are a living performer and have worked Coney Island, then their bio is in this issue! Included: Todd Robbins, Dick Zigun, Ses Carny, Slim Price, Combustable Kiva (The Grinder Girl of Letterman fame), Bobby Renyolds, and of course more! Cover art by Mark Frierson.
VOLUME 8 (CURRENT ISSUE): Frieda Pushnik The Living Venus DiMilo (cover story), Red Stuart, Dime Museums, Side Show Mentalism, Flea Circuses, cover art by Steven Blickenstaff, and more!

ALSO FEATURING CHRIS' WORK: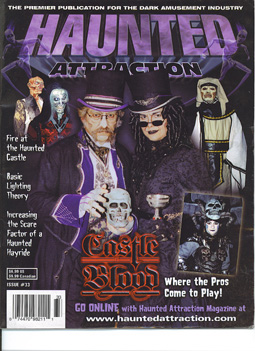 HAUNTED ATTRACTION MAGAZINE #33
Call for pricing and availability
Cover story on Castle Blood by Chris
M-U-M SEPTEMBER 2000 (VOL. 90 #4)
Call for pricing and availability
Chris is featured as one of the:
"21st Century Spook Show Artists" in this issue
includes story on Castle Blood & Castle Effect,
both written by Chris