Standard Family Magic Show: 
Chris takes people from the audience and helps them become wizards. 100% of Chris' show is interactive, complete with costumes and plenty of photoopportunities. Your "special guest" may even be invited to participate atthe beginning AND end of the show for extended periods of time. Your guests will get to make things move, appear in other guest's hands, and participate
in "wizard tests of magic and skill." There's even a special game at the end, where a newly-trained wizard gets the chance to win a prize!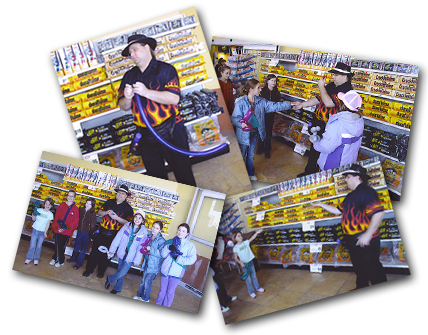 All of Chris' magic is designed to promote confidence, success, and most of all fun. You will find nothing in Chris' show that will deliberately demean, make fun of, or otherwise embarrass any of your guests. Chris will also discuss any special needs you have prior to the show, and do his best to accommodate your guests.
As an added option, Chris can teach a magic trick, give the guests a choice of balloon animals to take home, or make pearl poodles as a souvenir.